Leaving A Safety Legacy
Presented by Wylie Davidson
Motivational Safety Speaker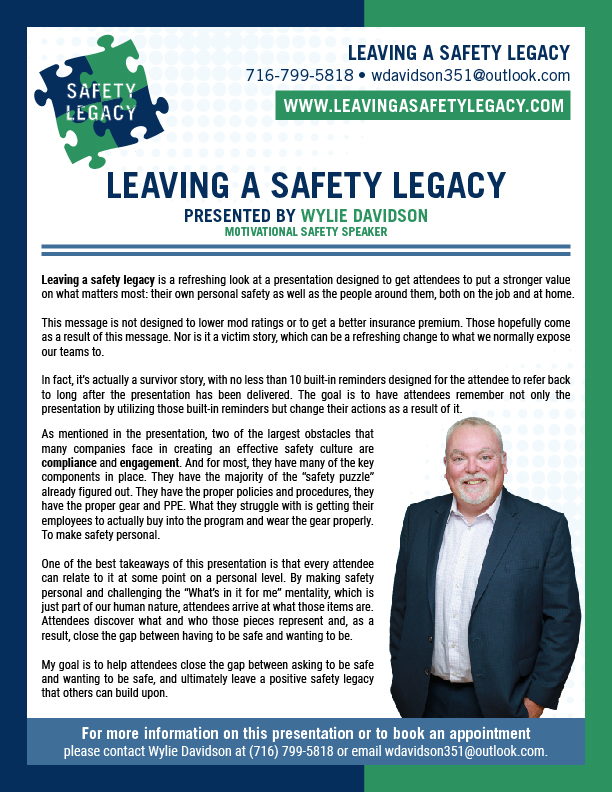 Leaving a Safety Legacy is a refreshing look at what many companies across the country struggle with when attempting to create their own effective safety culture: Compliance and Engagement.
By challenging the status quo and the "what's in it for me" mentality, this program is designed to get attendees to put a stronger value on what matters most; their own personal safety as well as the safety of others around them, both on the job and at home.
Through a lecture style format, our Leaving a Safety Legacy presentation has been making an impact at conferences and events across the country with attendees finding the message genuine, entertaining, and heartfelt. Conference planners are finding the message as the perfect way to energize an event as it sets the table for attendees to take a closer look at what they want/expect to get from the conference and challenges them to ask themselves "why" are they here?"
In this presentation our keynote speaker, Wylie Davidson, utilizes both his training and the real-world experiences that he has gained, to share with the audience the perfect mix of high energy, humor, and insight that attendees enjoy and take away from. Wylie's presentation style and thought-provoking anecdotes keep them hanging on and making the connection.
Attendees walk away with a clear understanding of how their safe actions impact themselves, as well as others, and make a personal connection to the reasons why it's important to be safe. One of the best takeaways of this presentation is that every attendee can relate to it at some point on a personal level. From entry level employee to C-Suite executive, this message has something for everyone. By challenging them to reflect on ways that they can give back to those around them, attendees discover what is most important to them and as a result close the gap between having to be safe and intrinsically wanting to be, ultimately creating their own safety legacy.
If you're looking for the perfect message to put a charge in your event then look no further, because this message is for you!
For more information on this presentation or to book an appointment
please call Wylie Davidson at (716) 799-5818 or fill out the form below: